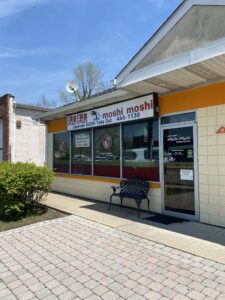 A Hidden Top Japanese Restaurant in Bergen County
Phone: 201-444-1130
Hours: Monday to Saturday 11:30 AM to 9:30 PM
137 Franklin Turnpike, Waldwick, NJ 07463
Scott's Review:
I've been visiting this Japanese restaurant for over ten years, mostly for sit-down lunches but lately for their take-out only service. It really is a great place for lunch or dinner. The service is typically fast.
Their lunch specials are very reasonable. You can choose from a selection of their combination lunch boxes (served with soup, salad, edamame, vegetable, and california roll or rice), Sushi and Sashimi lunch specials served with soup, Combination of 2 or 3 rolls (served with soup), or Sansai Udon Set (Soup with salad and california roll).
Be careful in their parking lot because it is tight and there is a lot of traffic especially during the lunchtime rush.
The inside ambiance is nice and relaxing once you sit down. The fact that it's a BYO restaurant is also easy on the wallet. I'm a big fan of their hot green tea. For a treat, be sure to order their red bean or green tea ice cream!
Moshi Moshi is kid-friendly so be sure to ask their staff for the beginner rubber-band-powered chop-sticks.
They seem to specialize in their avocado based sushi rolls, such as the Saddle River Roll, Mexican Roll and Green River Roll.
So, if you're out and about in Bergen county, call them up and place an order, most likely it will be ready in 20 minutes or less.
Party Trays!
If you are hosting a small event, be sure to check out their party tray menu.
What is Moshi Moshi?
And what is Moshi Moshi? It is a Japanese telephone greeting that you can read about here: Origins of Moshi Moshi
Also, Moshi is a company that makes ipad, iphone covers and protectors.
My Sushi + Sashimi Lunch Special: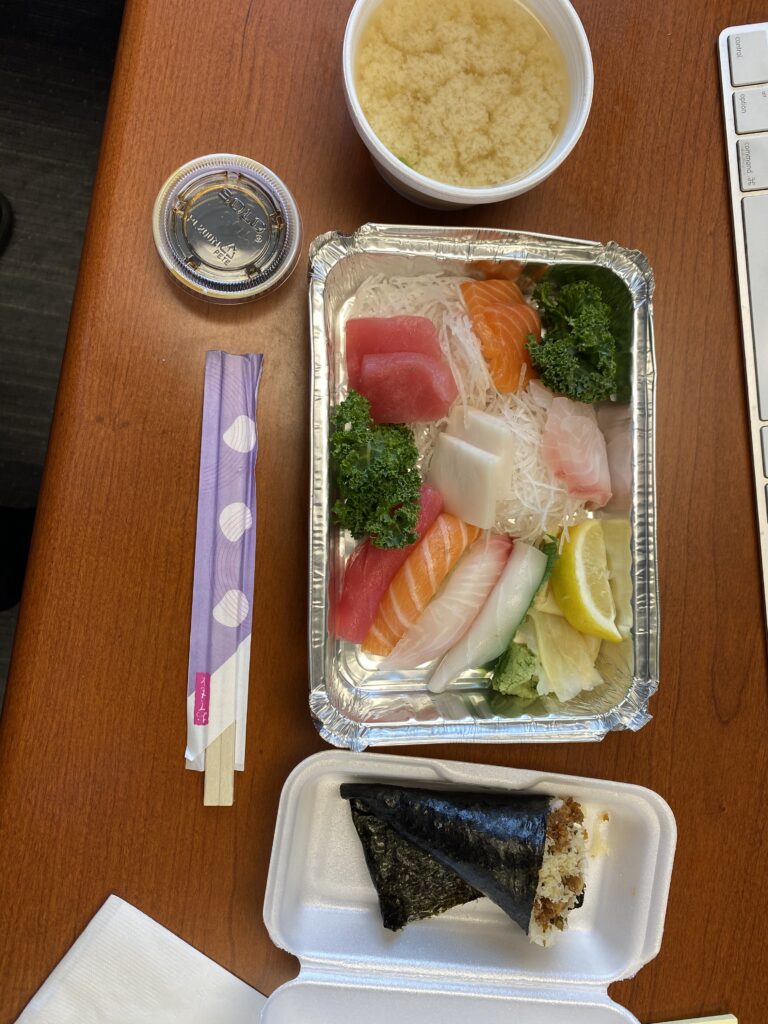 Their "Sashimi Salad" really shines.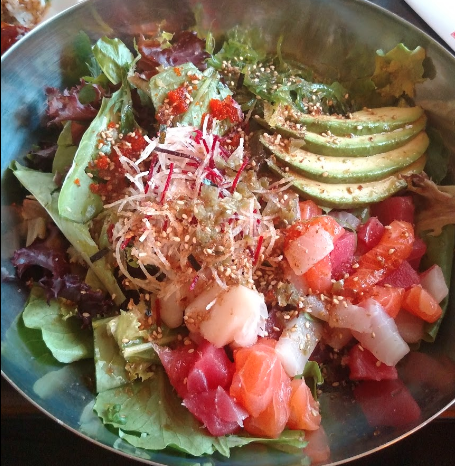 Menus:
Menu: Moshi Moshi Lunch and Dinner Menu
Menu: Lunch Specials Menu 11:30 AM to 3:00 PM