Hours and Info:
Everyday Hours: 7 AM to 10 PM (Seven Days a Week)
Link to Circular: Coupon for Spend $50 a $10 coupon on a future visit. BTW – Check out the Tuesday Rotisserie Chicken Deal too! Sales Circular Link
Phone: 800-250-0668 or Have Amazon Call You
Address: 30 E Ridgewood Ave, Paramus, NJ 07652
Scott's Review:
Amazon Fresh Paramus, which truly is like no other market, replaced the old Fairway Market, whose byline was, "Like No Other Market." (evidence). They offer "Just Walk Out Shopping," which is surreal as it sounds. (don't worry, they offer regular shopping too).
Step 1 – Choose a Cart:
As you enter the store you can use a smaller orange cart or a standard-sized green grocery cart. Or you can buy a reasonably priced reusable bag. I chose the orange cart as the store (and parking lot) was bustling with first-day shoppers. Once you leave the "cart room" you line up to go through the entry stalls.
Step 2 – Choose Your Shopping Method: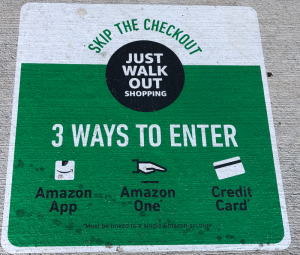 Three Ways to Shop! That's right, you have to choose the way you'd like to shop.
First Option: Amazon App
To use the Amazon App method, you need to have an Amazon Account with a payment type linked to your account. You need to open the App on your phone and display the diamond QR Code (From the Amazon App home screen select "In-Store Code" to be shown your diamond-shaped QR code).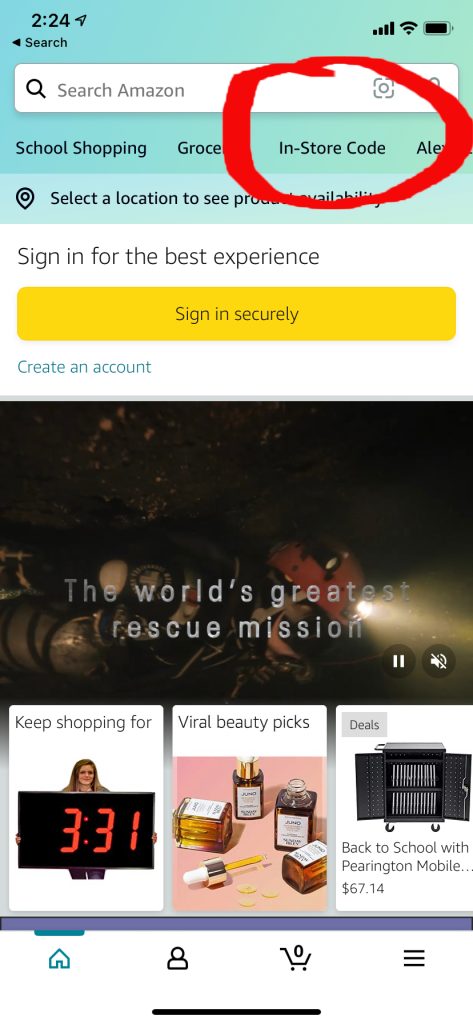 My dilemma happened after I scanned my diamond QR code on the sensor on the left side of my entry stall, I immediately noticed that I should have chosen the sensor to the right of my entry stall. There are arrows under the sensor pointing to the stall that it is attached to – but my powers of observation, as my wife would say, are lacking, aren't so keen.

The entry stall to my left was occupied as shown in the photo above. I wondered if I will be charged for their shopping trip. I then scanned my phone again over the correct scanner and the stall door magically opened and I entered the produce section.
I know some people who are weary of security cameras, and this store is not for them. Immediately, as you enter the shopping area, you are greeted by 1,043 cameras suspended from the ceiling at the same height peering over your shoulder.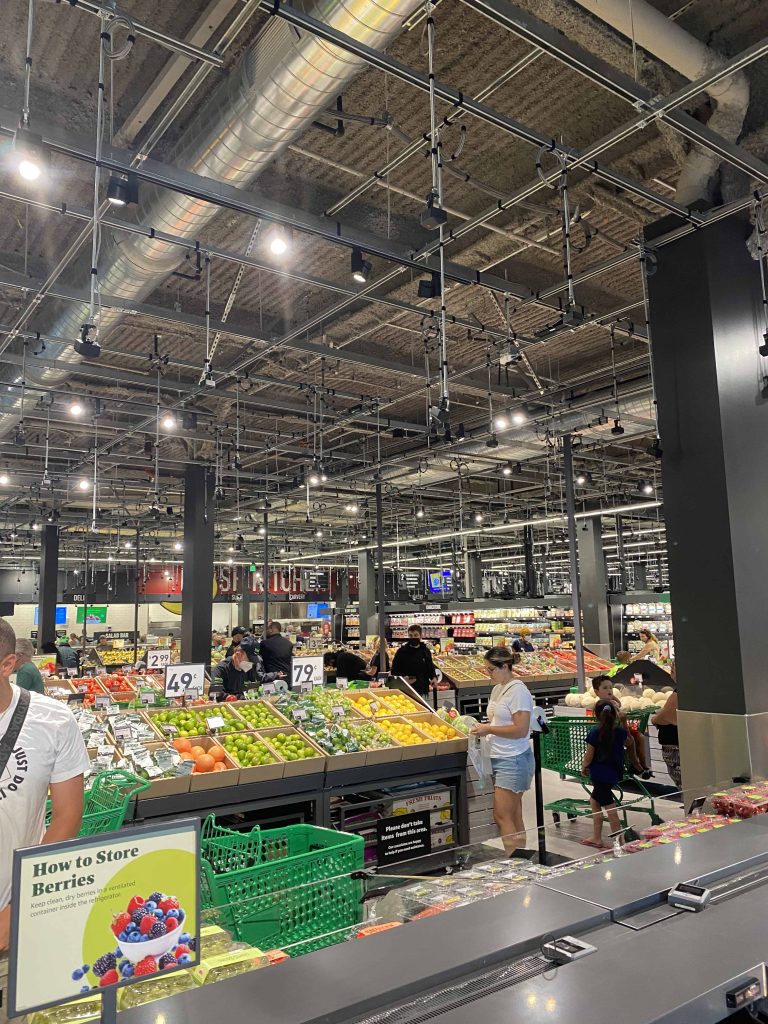 Second Option: Amazon One – Your Palm


For Amazon One – they say the sign-up is less than a minute and you will scan your palm which is recorded into an algorithm (Apparently no two palms are alike – if you have an identical twin, let us know if you can disprove that!). When you scan your palm, there will be a display guiding your palm position to the proper position where it can be read.
You'll also have to have a mobile phone and a credit card that can be used for the program (Here is a list of Accepted Cards – Most Amex, MasterCard, or Visa Cards are accepted). You can scan one or two of your palms and add them to your account.
Once you have your Amazon One account, you can enter with your palm. Shop while the cameras watch you. And then leave through one of the exit gates.
You take your items with you just like using the Amazon App method but instead of using your "in-store diamond QR code" you can use your palm to exit.
Third Option: Use your credit card to enter and Use your credit card to exit.
Forth Option: Normal Shopping and a Cashier
The final option is normal shopping…. enter through the Yellow Smile Welcome gate on the right, shop as you normally would, and exit through a cashier-run check-out lane. And you even have the option to pay with cash! As well as the other methods: credit or debit card, Amazon One, or the Amazon app (diamond QR Code). They also accept SNAP EBT.

Amazon Fresh Paramus Shopping:
Thankfully, my wife "patiently" joined me on the inaugural shopping trip while I snapped photos. We made a large purchase of a BLT-Turkey sub and a no-spill formula bottle of bleach (77 oz for $4 – I remember when bleach was $0.97 / gallon!).


The store was a fully stocked – narrow-aisle grocery store with many departments located around the side of the story (meat, deli, dairy, sushi, bakery).
Produce Scale? One thing I noticed in the produce section, there isn't a scale to be found. The employees said that everything is sold by "unit". This didn't help me when my wife asked me to pick up 3 lbs. of tomatoes! Luckily they let me weigh them on the deli counter scale.
There are grab-and-go food selections at the Amazon Kitchen including subs, sushi, hot bar, and salad bar. These "bars" use small, medium, and large containers, at 6.99, 9.99, and 12.99 respectively. For savings, every day of the week, the Amazon Kitchen is offering 20% off of one of its offerings.




Amazon Department:
One department that isn't found in other stores, is the Amazon Customer Service and Return department. There is a table of Amazon products and a "Best of Amazon" section for last minute-gifts that are available for purchase and a few Alexa kiosks set up throughout the store to answer your questions.
To return an Amazon.com purchase, begin the return on your app and then bring the item along with the email to show the customer service representative.

On this first day, I felt that every 6th person was wearing an Amazon shirt and constantly restocking items, such as the $4.97 rotisserie chicken.
As we made our way to the check-out area, I scanned my phone and the gate opened allowing us to leave with our bleach and sandwich. This was an hour ago, I haven't seen a charge for either my groceries or the other families' groceries on my credit card or received a receipt.


So it does feel a little like the recent Saturday Night Live sketch:
LINK TO CIRCULAR WITH COUPONS:
AMAZON FRESH PARAMUS STORE CIRCULAR
Saving with Amazon Fresh:
Coupons: Check out the circular for coupons and deals ($20 off of $40 or $10 off of $20)
Pay with the Amazon Credit Card and receive 5% cash back
Prime Members receive 20% off select items
Each day, the deli offers a the special of the day – This was for the week starting 2/14/23:


In Store Dining
In the front of the store, beyond the check-out stalls and cashiers, there is seating for approximately 60 people to enjoy the Amazon Kitchen fare. There is a station there that contains cutlery, napkins, and condiments as well as a microwave. So grab your wrap, sub, sandwich, or frozen entree and enjoy!


Online Shopping with Amazon Fresh Paramus
There is free grocery store pick-up if you order ahead. If you order more than $35 you can get free 1-hour pick-up. Unlike Shop-Rite and Stop and Shop, which also offers this service but for a price.
They also offer delivery if you live near Amazon Fresh Paramus
Thank you!
Be sure to drop a comment below with your thoughts about this unique Amazon store!