Bernie's Bagels and Deli
(AKA – Allendale Gourmet Catering)
99 W Allendale Ave – Suite 5
Allendale, New Jersey 07401

Phone: (201) 327-2423
Hours:
Mon 6:00 am – 3:00 pm
Tue 6:00 am – 3:00 pm
Wed 6:00 am – 3:00 pm
Thu 6:00 am – 3:00 pm
Fri 6:00 am – 3:00 pm
Sat 6:00 am – 3:00 pm
Sun 7:00 am – 2:00 pm
Menu Links:
Photos of the menu below.
Scott's Review:
Bernie's Bagels is a great local sandwich shop in Allendale, NJ that provides fresh bagels and sandwiches. Stop in for breakfast or lunch or have them cater your event or meeting. In the morning you're having a fresh bagel with coffee and for lunch you'll have a sub, sandwich, salad, or a wrap. They have Boar's Head selections and are very generous with their potions.



Haven't had a bad cup of coffee from here yet.
Typically fast service but calling in your order ahead of time will guaranty a quicker visit.
They have a large assortment of drinks and chips to choose from in addition to their daily specials which are posted near the registers.
Dine-in, take-out, or dine outside during the warmer weather months.
Also, they have outdoor seating available weather permitting.
They accept Cash, Amex, Visa, Mastercard, and Discover.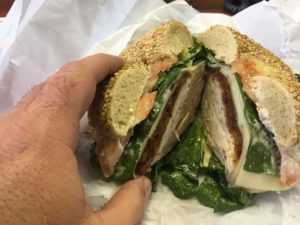 Menu Photos: